The rock carvings at Fossum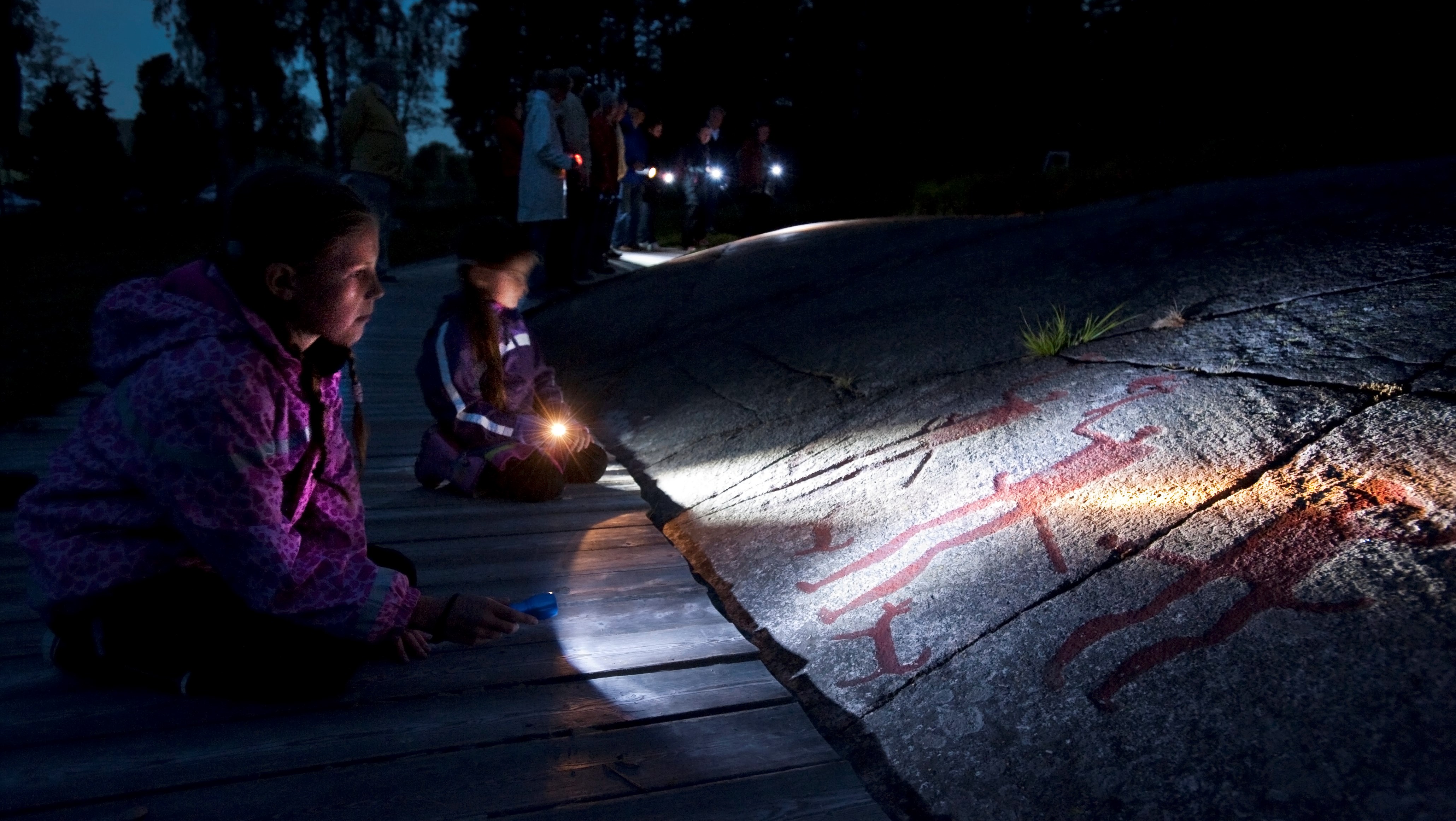 The Fossum panel is an integrated composition with images of people, ships, foot soles, animals and cupmarks. A few hundred metres to the east is Balken, where there are unpainted carvings.
Fossum is a rock carving situated at a higher level, unlike most of the other carved rocks in the World Heritage Area and it has never been in contact with the Bronze Age sea. On the other hand, it is nearer another kind of communication route. The road to Bullarebygden passes a few metres from the carving. Along the road there are a string of sites; it is evident that this is a road with an ancient history.
One carver's work?
This rock carving is very compact, the limited area of rock being packed with images. The images are very similar in style and execution; all the boats look alike and the people all seem to be cast in the same mould. Can this panel be the work of a single person? Although the images are very similar in style, the content is varied: the Fossum woman rubs shoulders with warriors, musicians and dancers with hunters, deer with dogs.
The carvings on Balken
From the main panel there is a path leading off to the right. It leads to the unpainted carving called Balken. There is a sunhorse carved into the right side of the panel, one of the most beautiful rock carvings the World Heritage area can offer. Similar sunhorses are carved into bronze objects and reproduced as Bronze Age statuettes. The interpretation of these horses is that they draw the sun across the heavens in the day before handing over to the nightship which brings the sun back to the east to complete the cycle.
Directions
Turn north from the museum towards Tanumshede. Turn right at the church, then take the first on the left. After 3 km there is car parking on the right. The carvings are on the left side of the road.
Updated: 2017-01-17 14:56
Do you have a point of view or ask about the website?
---